Asset care services
With the rise of IoT and Industry 4.0, the business technical environment continues to evolve. The operational activities are leaner than ever. Organizations cannot afford to see the quality of their services or products deteriorate.
How do you ensure that all resources are used efficiently to achieve maximum returns? Simple: through targeted and effective asset management.
This is where Pragma can support you. Our scalable Asset care services is suitable for all organizations; regardless of size and technical maturity.
What does Asset care services offer you?
Depending on your internal organization and needs, we offer an extensive range of services, ranging from:
Targeted improvement projects and targeted advice from our asset care maintenance engineers, depending on your demand and needs
Strengthening your asset management team with our engineers and technical staff
Advice from our asset management, IT and IoT consultants
A fully outsourced asset management program where we perform planning, execution and procurement services on your behalf, allowing you to focus on your core business
Working with Pragma
Working with us means that all work is consistently carried out to the highest standard, in accordance with all your internal quality standards and ISO 55000. In order to guarantee our quality of service, our asset management standards, business processes and best practices are laid down in our Asset Care Pack. This is an asset management framework and is successfully used in different types of organizations with a variety of assets.
Pragma's consultants support you in every area of asset management. Whether it concerns drawing up a strategy for asset management, targeted improvement projects, maintenance methods, the optimization of the use of (financial) resources, the management of spare parts or the daily execution of planning.
Asset care services with any maintenance management system
Our services can be performed using any maintenance management system, such as SAP® PM, Infor EAM, Maximo etc. This depends on the software choices that have already been made in your organization. Don't have a maintenance management system in use yet? Or do you want to reorient yourself? Then we offer you our own On Key EAM system. On Key is ideal for managing your assets, planning maintenance and reporting on the performance of the assets.
Years of experience with Asset care services and On Key
We have converted our many years of experience with asset care and maintenance management into the maintenance management system On Key. The software offers all the functionalities needed for good maintenance and asset management. Such as planning and scheduling, asset data management, mobile options such as apps, analytics, API and reporting. On Key can be used within any organization and with any asset type.
Want to know more about Pragma's Asset care services?
We are happy to support you in your asset management, so that you are assured of optimal performance, manageable risks and acceptable costs. We unburden you, so that you can concentrate on the core activities of your organization.
Hover your mouse over the roadmap and discover how we assess, set up and implement processes.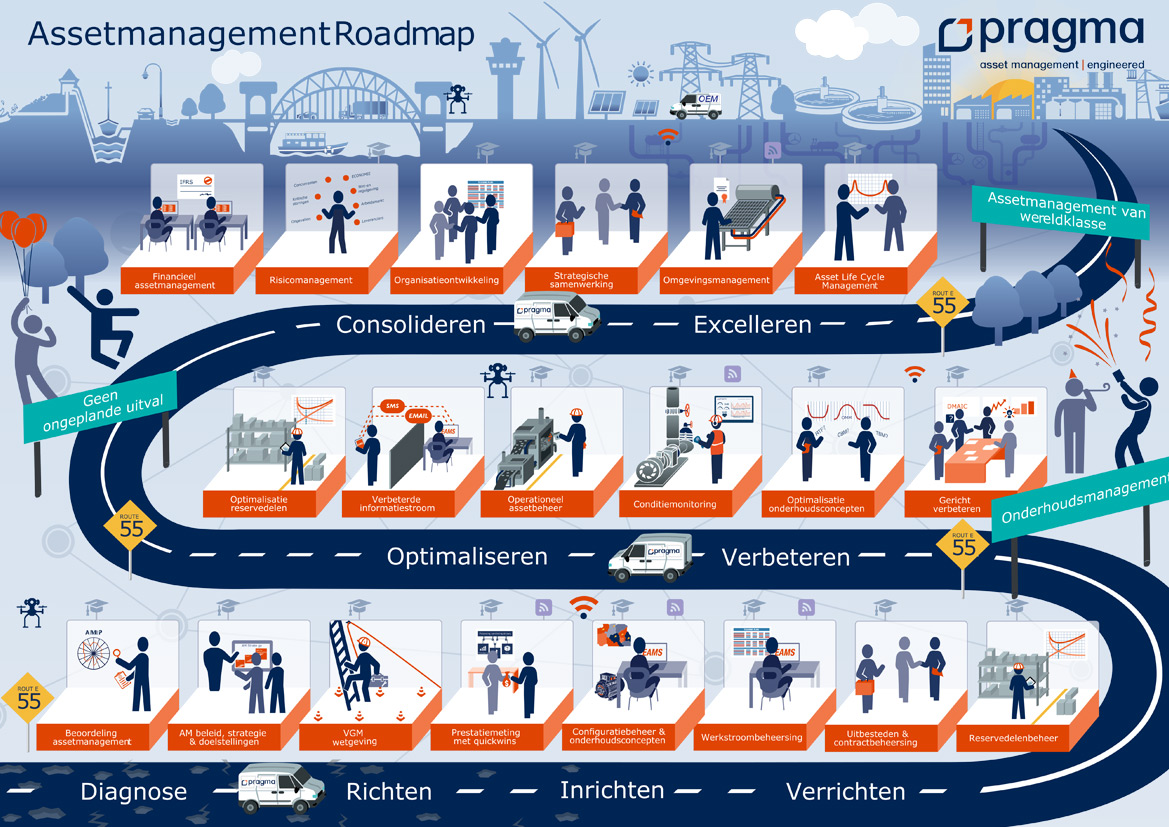 Start hier.
Beweeg uw muis over een activiteit en lees meer informatie.